Interview with a Geek: Li
When did you start bellydancing?
I started dancing in 2005. I knew that I wanted to take a dance class during college and two of my friends had already been bellydancing for years. I knew how to do wrist circles and loved the awesome thing that my friends could do, so I signed up for my first class and have been learning since!
How did you get your stage name?
My name is unique enough (as a first name with this spelling) and is short and easy to remember, so I kept it! I have enough nicknames to answer to already.
Why did you decide to join LXBD?
The short answers would be: fun and challenge and delight. The people are fun to be around and work with, as are the choreographies. I relish the challenge to tap back into my pre-ATS® roots and bring those skills to new heights in order to do justice to the themes and characters that we bring to life on stage. Finally, while I came to dance as a method of movement meditation, learning about and appreciating performance is really important to me - to delight the audience, whether through interest or just through having a blast watching a masterful-but-silly dance!
Plus, I'm a giant nerd who researches her own nerdiness. So. You know. Yeah.
What's been your favorite LXBD moment?
Off the top of my head, I think embodying a Jedi the first time at Legends has been my favorite moment. I remember watching this dance from the sidelines at a stage show as I waited to go on with my class and nearly dying of delight myself! I would watch the videos of this dance over and over and over because it's just so fun!
And then, that one night when Harleen and I WERE those Jedi … I had a weird brain moment. I was doing that for someone else. Well, the group was, but I helped!
Whenever I have the opportunity to do this dance, I remember that feeling and so I work really hard to keep upping my Jedi game and make her better and more fully-realized each time.
What's your favorite LXBD dance?
There are (unsurprisingly) a number of contenders here. I adore our D&D dance, from my costume planning to the group working together to make Linda the Beholder, to finally mastering swinging my sword around at speed. I love the Sailor Moon dance, which technically may not be LXBD since Emily/Usagi taught it at a workshop, but I have never enjoyed being cutesy more (Sailor Jupiter forever).
But the tribute to Melisandre of A Song of Ice and Fire/Game of Thrones still wins, as it always has. I already liked Florence + The Machine and utterly freaked out when I heard the opening vocals with the large group at Geektastic. Beyond that, I love how much Emily embodies Melisandre in this dance (you can see it in pictures), and the swirling ebb and flow of red and gold and candles makes my heart soar. It also feels amazing to practice and perform - I love dances that force me to flow and to slow down and that juxtapose fluid undulations with sharp isolations. And I love red and gold. Still my favorite.
Are you working on anything at the moment?
Hello, I am Li and did I mention I am a nerd? I'm always working on things! It's a problem.
I'm still working on new pieces for my Paladin costume and am planning on exploring a variety of ways to make prop swords with my partner, who is into woodworking.
I'm working on a large group choreography to submit to LXBD (eek!) based on my favorite video game from my childhood.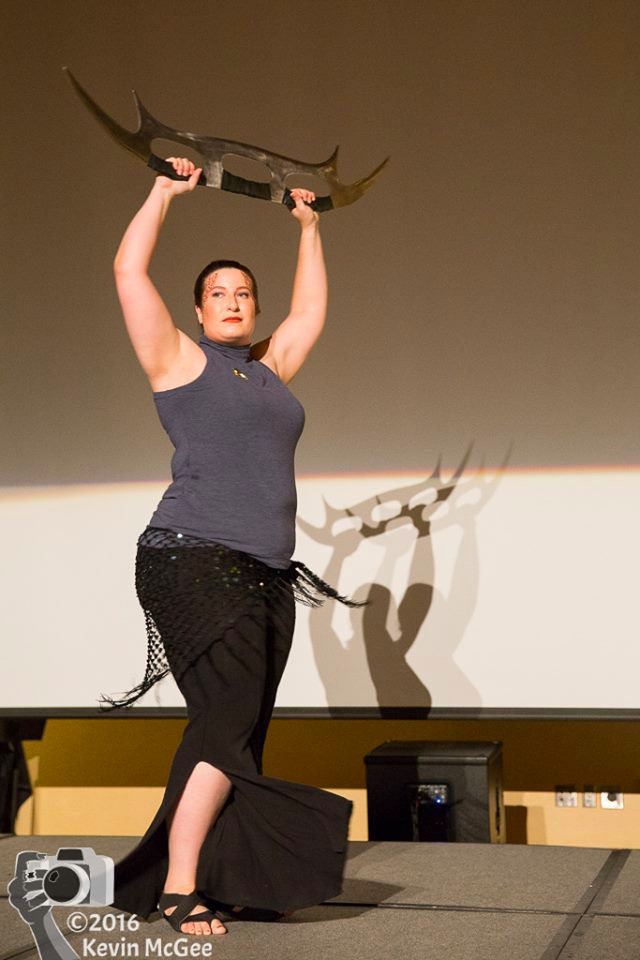 I'm also on the lookout for a good place to source real steel bat'leth ...
I already have a promised General and promising recruits for bat'leth ATS® so I just need to find a good source and set up a workshop time!
I also have plans for some solos (geeky and not), because those are important to me in my dance development. I hope you like Garth Nix and Cowboy Bebop!
Do you have any side projects?
Sure! I make jewelry that I sell in person and on Etsy. I love working with natural gemstones and wire.
In addition to LXBD, I also spend a lot of time in service to my ATS® dance life and community, learning from and performing under the direction of the wonderful Dawn Ruckert and attending workshops wherever possible from dancers like Wendy Allen, Kae Montgomery, and Anita Lalwani.
I also think I could count my personal dance development stuff as a side project, in a way? I've been lucky enough to be able to take workshops with the beautifully-musical Jules Downum and am excited to learn from Kami Liddle this September! I'll also be starting my 8 Elements journey with the woman who inspired me to keep learning when I had no class to keep me going - Rachel Brice - this August!
Basically, in 2005 when I started I never ever thought that I would be able to learn and participate so much in so many things. I am so, so thankful.
Favorite fandom and why?
Oh dear. I don't know about "fandom" as the communities surrounding the geeky thing, but I'd say that my favorite thing of which I'm personally a fan is Star Trek.
I have many fandoms, and it kills me a little bit to not name Sandman or American Gods. But Star Trek, to be honest, illustrates the kind of geek I am: I am the overthinking geek.
Star Trek, in each of its incarnations, is both a clear product of its time and also an illustration of hope for its future. Likewise, it has influenced our culture and our technology, and it embodies what I want from my science fiction: careful and piercing examination of the present and the courage to imagine and show a better future.
Which Star Trek technology do you wish we had already and why?
"Darmok and Jalad at Tanagra" - A universal translator that (at least) takes into account slang and nuance where possible. Cultural references may never be translatable, but we're already making great strides in contextual, quick translation! I follow the efforts of translation technology (in my other life in my imagination, I pursued linguistics and computer science to help this effort) and we're getting pretty far, pretty fast!
I would also say ... you know ... food replicators to end world hunger and warp speed to explore the universe (and enable my dream of studying exolinguistics) and wonderful medical diagnostic technology to save lives. But I honestly believe that a really, really good translator would level the playing field around the world and enable cooperation towards these technologies. We would share more information and new voices can come to these fields without the language barrier acting as a functional and status hurdle to cooperation and progress. Not to mention that it would bring an immense wealth of cultural cross-communication that would enrich the world and international/interpersonal relations.
I'd still learn all the languages, though. I can be the backup.